CHARLOTTE, N.C. (October 5, 2017) – AAA Carolinas recently unveiled a customized tow truck to show support and raise awareness for the Multiple Myeloma Research Foundation. The MMRF truck is the newest addition to AAA Carolinas' Care Fleet.
​​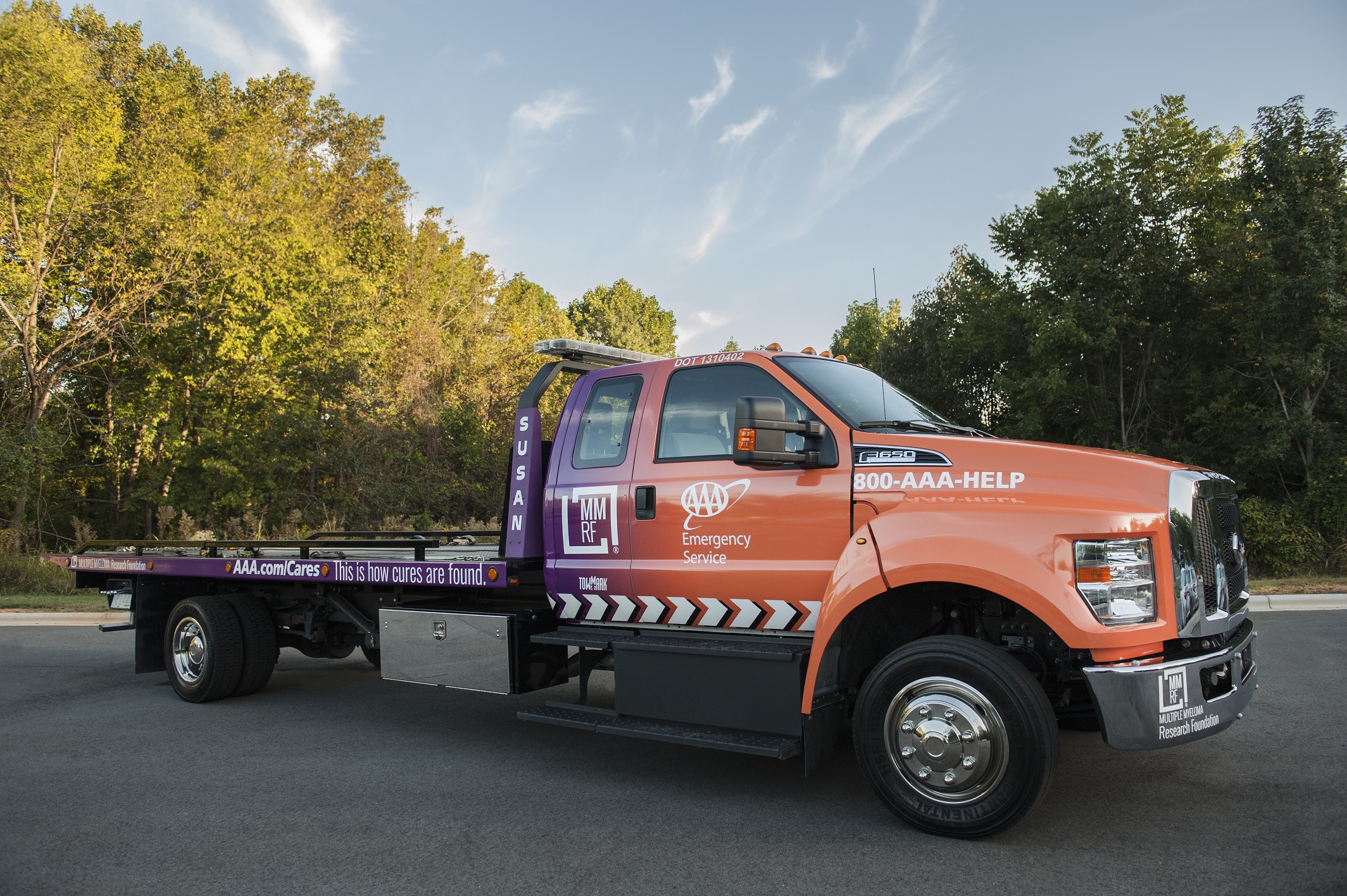 ​
​
AAA Carolinas will donate $1 from every tow up to $5,000 to the Multiple Myeloma Research Foundation.
The charity truck touches close to home for AAA Carolinas, as one of their longtime employees was diagnosed with Multiple Myeloma a few years ago. Former Vice President of Human Resources, Susan Van Reen lost her courageous battle with the disease in 2015. The truck is named Susan in her honor.
"We are honored to partner with the Multiple Myeloma Research Foundation to help its mission of finding a cure for such a devastating disease," said Dusty Holcomb Senior Vice President of Member Experience and Analytics at AAA Carolinas. "The efforts being made by this great organization are helping patients live longer as it continues its efforts to cure Multiple Myeloma. We praise MMRF and are happy we can pay tribute to Susan as we service our members every day."
Multiple Myeloma is a cancer formed by malignant plasma cells – which are found in the bone marrow and are an important part of the immune system. From this stage, a host of problems begin to arise. At this time, there is no cure for Multiple Myeloma, but doctors continue to search.
The American cancer Society estimates that in 2017 alone, 30,280 new cases of Multiple Myeloma will be diagnosed occurring in 12,590 deaths.
The purple-and-orange Multiple Myeloma truck joins the camouflaged Paralyzed Veterans truck, the pink American Cancer Society-Making Strides Against Breast Cancer truck, the blue Make-A-Wish truck, the green-and-blue Rohr Rockstars truck, the orange Harvest Center truck and the red Special Olympics truck. All vehicles are working tow trucks in the Charlotte area and were launched in the past five years. These charities also receive proceeds raised by Casual for a Cause, a program in which AAA employees donate money to participate in a casual dress code on Fridays.
AAA Carolinas, an affiliate of the American Automobile Association, is a not-for-profit organization that serves more than 2.1 million members and the public with travel, automobile and insurance services while being an advocate for the safety and security of all travelers. ​