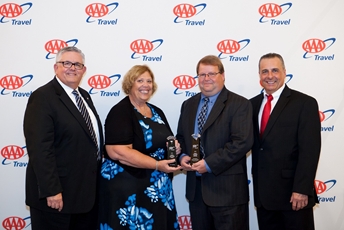 CHARLOTTE, N.C. (October 24, 2016) – AAA Travel, one of the largest leisure travel agencies in North America, presented nine travel industry suppliers with 2016 Partner of the Year Awards. The prestigious awards, given in 15 categories, recognize the partners' commitment to providing AAA travel agents and members with exemplary travel services and products. Additionally, AAA's three top-performing travel agents were honored with four highly coveted 2016 Superlative Awards. The awards were unveiled October 16 at the annual AAA Travel Conference in Orlando, Fla.
AAA Carolinas'Henry Dennis was honored withthe Highest Association Sales Volume Overall 2016 Superlative Award. Dennis has been named a Superlative agent 3 out of the past 4 years, and was the top tour sales in 2013, 2015, and again in 2016.
"Henry is relentless in recommending and providing the right travel products and options for Members and customers! His experience and passion for his profession is evident to all who work with him," said AAA CarolinasSenior Vice Presidentof TravelSarah Henshall.
Dennis, a three-time Superlative Award winner, has more than 25 years' experience in the travel industry. He is a Certified Travel Counselor and Accredited Cruise Counselor, as well as an accredited Lifestyle Specialist in the areas of luxury travel and destination weddings and honeymoons. Dennis is based in Charlotte, N.C., where he has served AAA Carolinas'members for more than 20 years.
AAA Carolinas, an affiliate of the American Automobile Association, is a not-for-profit organization that serves more than 2 million members and the public with travel, automobile and insurance services while being an advocate for the safety and security of all travelers.?