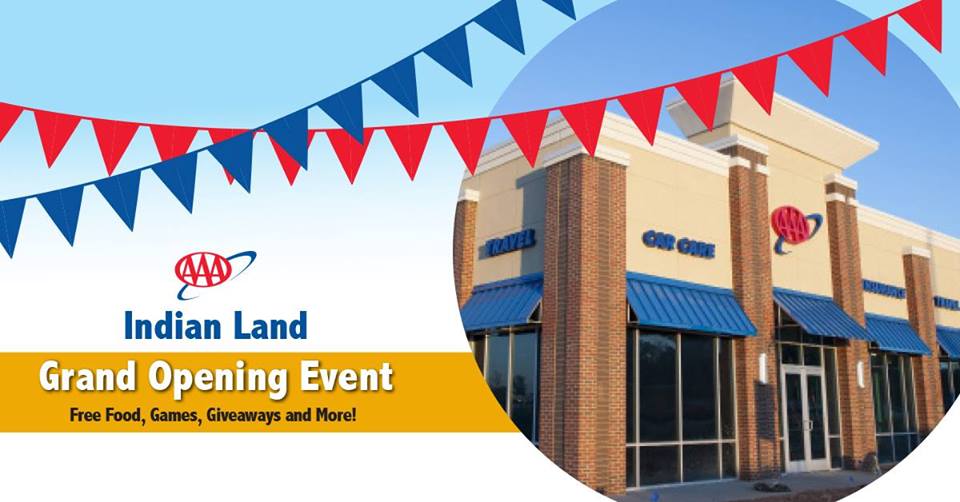 ​CHARLOTTE, N.C. (November 3, 2017) – AAA Carolinas will host the grand opening of its new SuperStore at 9737 Charlotte Highway, in Indian Land, S.C. this Saturday Nov. 4th from 10am to 3pm. The new facility offers members and the public automotive maintenance and repair, full service travel and insurance services in one location.
"We are very excited about our new SuperStore and thrilled to be joining the Indian Land community," said Dave Parsons, president and CEO of AAA Carolinas. "Members truly benefit from the convenience of having three services at one central location and it enables us to provide the most personalized customer care."
The event will include games and attendees can enter to win prizes including Carolina Panthers tickets, luggage, and a YETI cooler. There will be free food and giveaways at the event. The first 50 AAA members will receive prize packs.
AAA encourages the Indian Land community to come out to tour the new branch. Booths will be set up with information from several business lines as well as membership benefits.
AAA SuperStores are open to the public, though AAA members receive discounts and benefits. Members receive a 10 percent discount on repair labor and a 2 year/24,000-mile warranty on Car Care services as well as free maps, TourBooks and customized TripTik directions.
AAA Carolinas' travel agency is the largest full-service agency in the Carolinas, serving over half a million customers a year, with 27 offices in North Carolina and 11 in South Carolina
AAA Car Care centers represent the largest non-franchise automotive repair organization in the Carolinas with 27 facilities in North Carolina and 8 in South Carolina.
AAA Carolinas' insurance agency is the largest non-bank owned personal lines agency in the Carolinas, with 57 in North Carolina and 20 in South Carolina.
The new Indian Land SuperStore is the first AAA Carolinas facility to display the organization's new design concept, which was created to enhance the member experience.
To contact the AAA Indian Land SuperStore at 9737 Charlotte Hwy, call (803)-547-8446.
AAA Carolinas, an affiliate of the American Automobile Association, is a not-for-profit organization that serves more than 2.1 million member and the public with travel, automobile and insurance services while being an advocate for the safety and security of all travelers.