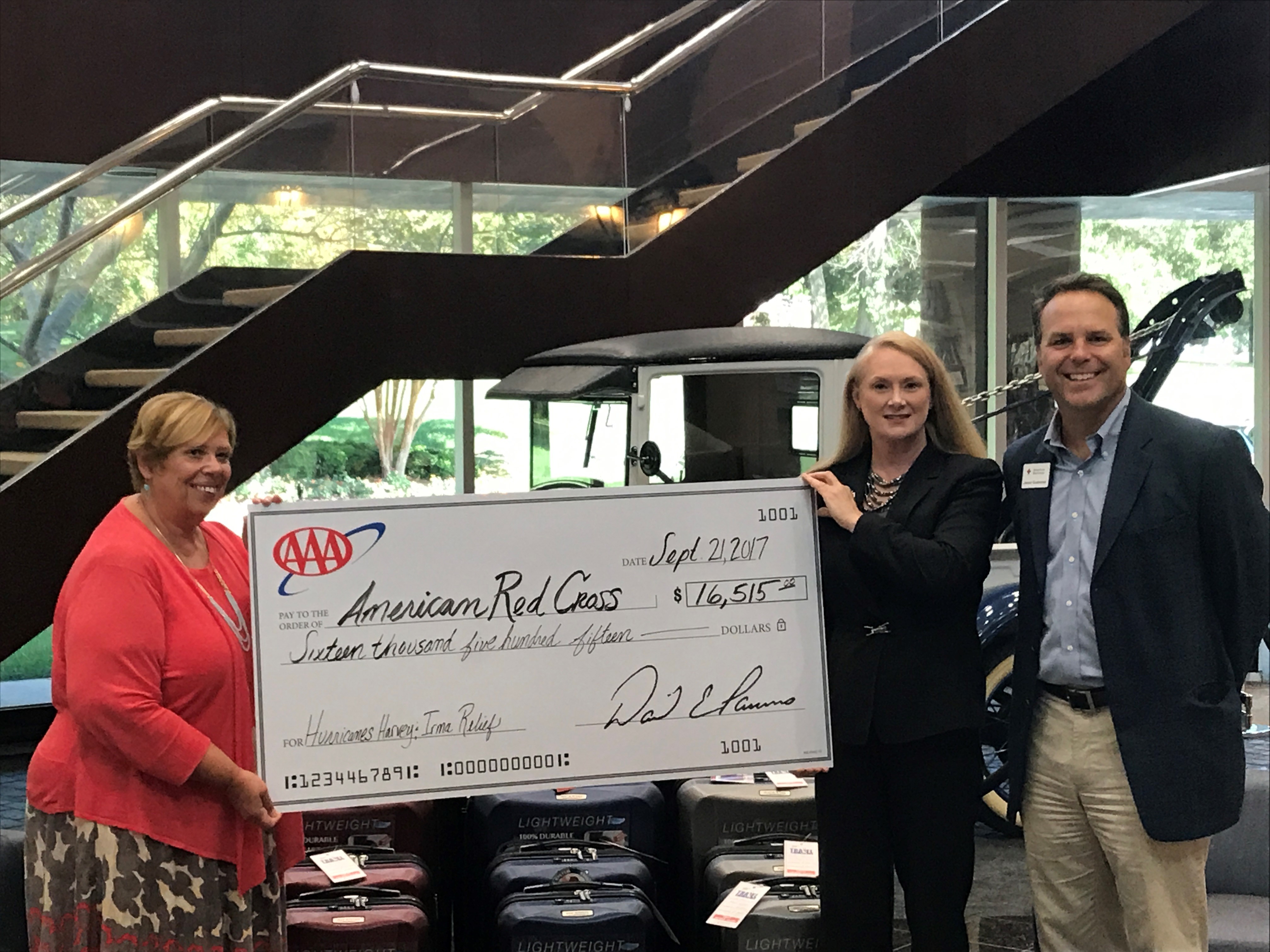 ​
CHARLOTTE, N.C. (September 21, 2017) – The employees of AAA Carolinas came together in an effort to raise money to give back to the victims of Hurricanes Harvey and Irma.
AAA Carolinas President and CEO Dave Parsons encouraged employees to donate what they could, promising that the organization would match its employees' donations dollar for dollar. What began as a fundraiser for the victims of Harvey quickly multiplied into a combined effort for Harvey and Irma victims alike, as Irma came so suddenly after Harvey.
The employees of AAA Carolinas raised a total of $5,505 for the relief fund. With that number, AAA Carolinas matched dollar for dollar for both storms, bringing the total to $16,515.
"We initially went into the fundraiser saying we would match their donations dollar for dollar to send aid to Harvey's victims, but when Irma struck with just as much force a few days later, we knew we needed to do more," said Parsons. "That's when we decided to match their total twofold, one time for each storm."
AAA Carolinas VP of travel, Sarah Henshall, presented the $16,515 check to the American Red Cross Thursday. The funds will now be evenly distributed to the affected areas to assist in the recovery process.
"On behalf of the American Red Cross, our volunteers and the clients we serve, I want to thank AAA Carolinas and their employees for their willingness to join us in our disaster relief efforts. Their generosity will have an impact on the thousands who were affected by Hurricanes Harvey and Irma," said Angela Broome Powley, CEO of The American Red Cross Western North Carolina Region.
The American Red Cross has a scale for natural disasters, with a seven being the most severe rating. This is the first time in American Red Cross history that the organization is dealing with four seven-level relief zones simultaneously.
AAA Carolinas, an affiliate of the American Automobile Association, is a not-for-profit organization that serves more than 2.1 million members and the public with travel, automobile and insurance services while being an advocate for the safety and security of all travelers. ​