AAA unveils top electric, hybrid and fuel-efficient vehicles
​CHARLOTTE, N.C. (APRIL 18, 2017) – A new AAA study reveals that consumer interest in electric vehicles remains high, with the survey showing that more than 30 million Americans are likely to buy an electric vehicle for their next car. With rising sales, longer ranges and lower costs, AAA predicts a strong future for electric vehicles, and announces the top electric, hybrid and other efficient vehicles in its independent, rigorous test-track evaluation
"Despite the fact that gas prices are about 40 percent lower than five years ago, consumer interest in electric vehicles and hybrids remains high," said AAA Carolinas President and CEO Dave Parsons. "Concern for the environment remains the primary motivating factor for those purchasing electric cars."
The number of Americans interested in an electric vehicle approaches the number planning to purchase a pickup truck, with the survey showing that 15 percent are likely to buy an electric vehicle for their next car. Millennials are even more accepting of electric vehicles, with nearly one-in-five interested in going electric for their next car.
Besides environment concerns, AAA also found that lower long-term costs, desire for the latest technology and access to car pool lanes are all influential. With their extended range and flexibility, hybrid vehicles are also desirable to Americans, with nearly one third (32 percent) likely to buy the gasoline- and battery-powered alternative.
Beyond electric and hybrid vehicles, AAA's survey found that fuel economy remains a major purchase consideration for all U.S. drivers, with 70 percent rating it as an important factor in selecting any vehicle – equal to the importance of the cost, crash rating and performance – ahead of safety technology (50%), brand (48%), style, color and design (46%) and smartphone connectivity (34%).
With a focus on the future, the Automobile Club of Southern California's Automotive Research Center rates and ranks electric vehicles, hybrids, compressed natural gas-powered (CNG), diesels and high fuel economy gasoline-powered vehicles for the annual AAA Green Car Guide. Vehicles are rated on the criteria that matter most to car buyers, including ride quality, safety and performance.
In 2017, the following vehicles earned AAA's Top Green Vehicle award: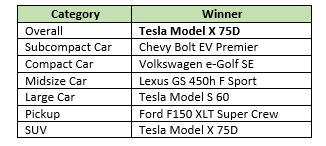 Winners, detailed evaluation criteria, vehicle reviews and an in-depth analysis of the green vehicle industry can be found at AAA.com/greencar.
While electric vehicles are an attractive option for car shoppers, AAA found that more than half of Americans are hesitant to make the switch due to "range anxiety" – the concern over running out of charge or having too few locations to charge a vehicle. This fear persists despite the fact that U.S. drivers report an average round-trip commute length (31 miles) and time (46 minutes) that are well within the range of the more than 100 miles of range that most electric vehicles offer.
To assist with range anxiety, drivers of electric vehicles can find the closest charging station via the AAA Mobile app or AAA's TripTik Travel Planner. In 2017, charging station availability has grown to more than 15,000 locations across the United States.
Additional survey data, study methodology, infographics, photos and video can be found at NewsRoom.AAA.com.
AAA Carolinas, an affiliate of the American Automobile Association, is a not-for-profit organization that serves more than 2 million members and the public with travel, automobile and insurance services while being an advocate for the safety and security of all travelers.
Connect with AAA Carolinas on Facebook at www.facebook.com/AAAcarolinas and follow us on Twitter at @AAAcarolinas.t or choose the "edit" option from the block menu.