CHARLOTTE, N.C. (August 31, 2016) – After dropping for two months, pump prices are again on the rise heading into Labor Day weekend. Despite this recent increase, Labor Day pump prices are still the lowest since 2005. Palmetto and Tar Heel state Labor Day travelers will enjoy some of the lowest gas prices in the nation with South Carolina's average currently sitting at $1.96, the lowest in the country, and North Carolina's average sitting higher at $2.10.
"As we near the end of the Summer, Carolinians are still enjoying some of the lowest gas prices in the nation and the lowest gas prices for Labor Day weekend in over a decade," said Dave Parsons, AAA Carolinas President and CEO. "These low gas prices will spur many Carolinians to drive to their Labor Day destinations and we want to encourage drivers to stay safe on the roadways this weekend and as always, remember to eliminate distractions behind the wheel such as cell phone use. We urge every motorist to disconnect and drive."
AAA Carolinas estimates more than 1,032,000 North Carolinians and 460,000 South Carolinians will travel 50 miles or more from home this Labor Day weekend – a slight increase from last year. Of those travelers the majority will drive to their destinations.
Carolina motorists driving through surrounding states will encounter varying prices at the pump, with Georgia ($2.15), Virginia ($2.02), Tennessee ($2.04) and Florida ($2.23).
The top driving destinations for Carolinians this holiday are Charleston, SC, Myrtle Beach, SC, Orlando, FL, Bar Harbor, ME and Williamsburg, VA according to AAA Vacations, the largest leisure travel agency in the Carolinas, which tracks personalized drive trip routes.
Labor Day weekend is included in the 100 Deadliest Days, a period during the summer months when crashes for teen drivers increase significantly. Recent research from the AAA Foundation for Traffic Safety confirms that nearly 60 percent of teen crashes involve distractions behind the wheel. The research also found a distributing trend showing that texting and social media use are on the rise amongst teen drivers.
Last year during Labor Day weekend, North Carolina saw over 1,500 crashes, 968 injuries, and ten fatalities. During the same period South Carolina endured close to 900 crashes, 403 people injured, and nine fatalities.
"The statistics from 2015 are alarming," Parsons said. "With more motorists on the road, it's the perfect time to remind everyone to practice safe driving habits?ncluding not drinking and driving, adhering to speed limits, and buckling up.
The North Carolina Department of Transportation and Governor's Highway Safety Program have already launched the annual Labor Day Booze It or Lose It campaign, stepping up enforcement of impaired driving laws through Sept.5. South Carolina's enforcement blitz includes the Sober or Slammer campaign and is spearheaded by SCDPS. The goal is to reduce the number of crashes and fatalities caused by motorists driving under the influence of alcohol and drugs.
While most Carolinians will be driving, for those taking tours and cruises, the top destinations are Alaska, Las Vegas, London, Rome and the Bahamas.
To estimate fuel costs travelers can go towww.fuelcostcalculator.com to input starting city, destination, and the make and model of their car.
The free AAA Mobile app for iPhone and Android devices uses GPS navigation to help travelers map a route, find updated gas prices, view nearby member discounts and access AAA Roadside Assistance.
AAA Carolinas, an affiliate of the American Automobile Association, is a not-for-profit organization that serves more than 1.9 million members and the public with travel, automobile and insurance services while being an advocate for the safety and security of all travelers.
Connect with AAA Carolinas on Facebook atwww.facebook.com/AAAcarolinas and follow us on Twitter at@AAAcarolinas.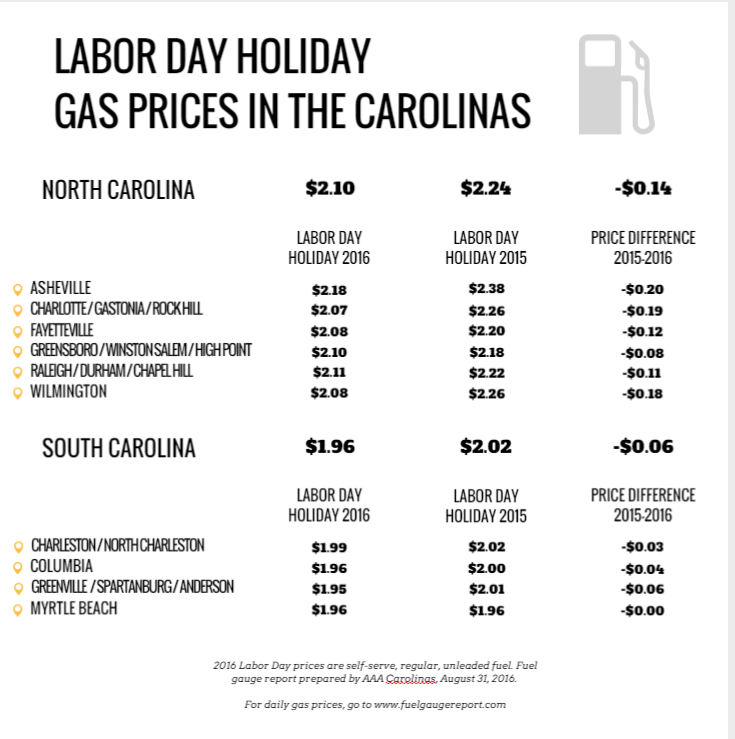 Checking your vehicle.Check your tire pressure using the recommended pressure listed on the inside of the vehicle's driver door. Make sure all belts and hoses are not worn or cracked, and that fluids are at adequate levels.
Getting sleep.Motorists need at least five hours of sleep before heading on a road trip. If possible, alternate the driving with another person in the vehicle.
Avoiding distractions.In the five seconds it takes to answer a text, your car travels the length of a football field. If possible, ask other passengers to handle navigation, and don't use the phone while driving even if it has hands-free features, because research from the AAA Foundation for Traffic Safety indicates a hands-free phone conversation still is dangerously distracting.
Not drinking and driving.It's never safe to drink and drive, and extra holiday travel traffic congestion adds more opportunities for tragedy. Use a designated driver, a make arrangements to stay overnight, or arrange a safe ride home if you plan to drink.
Avoiding certain prescriptions before driving.Make sure your needed prescriptions don't affect your driving ability. If you don't know, check out RoadwiseRX.com, a free AAA site that lists possible driving-related side effects for most medications.