​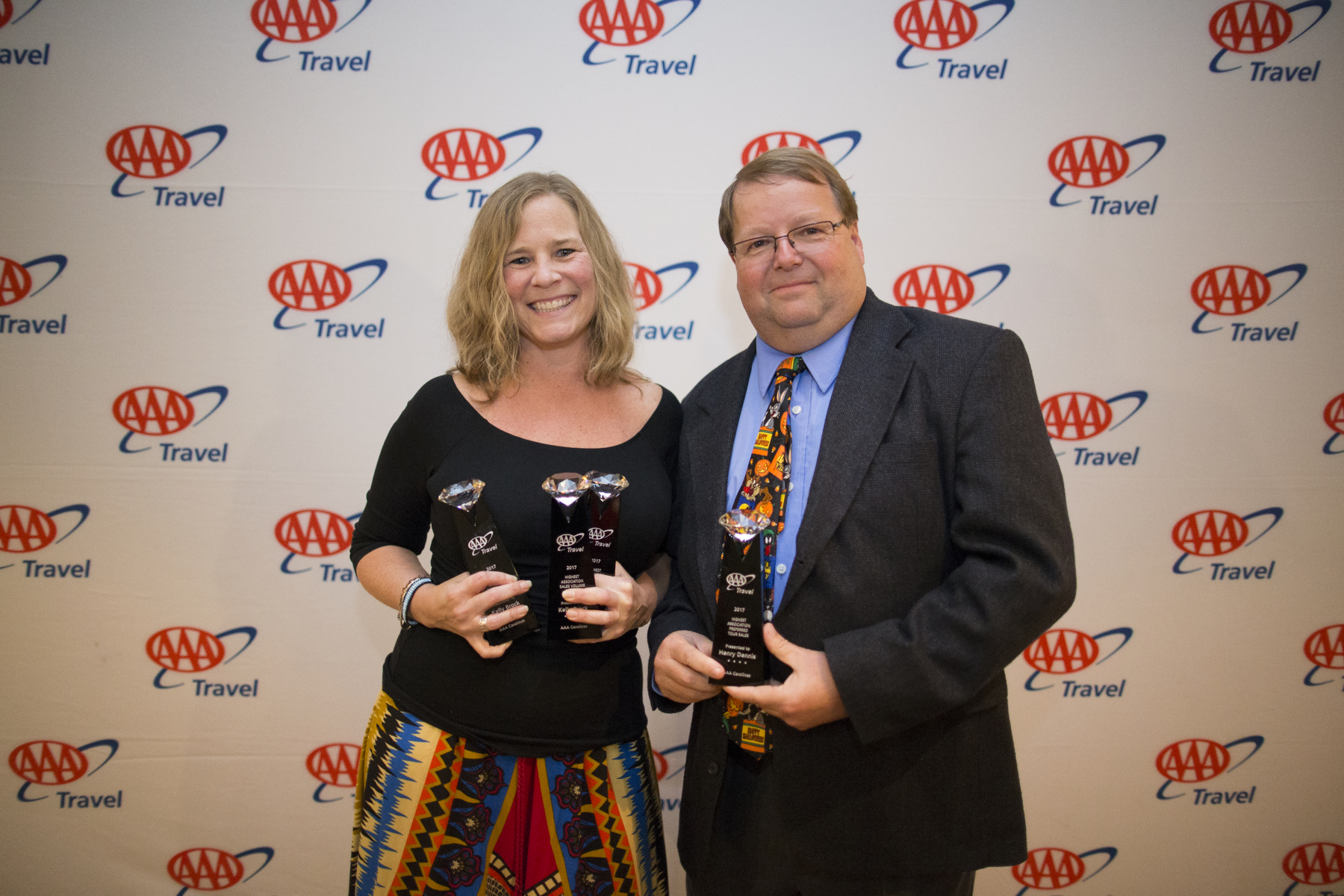 ​​CHARLOTTE, N.C. (November 3, 2017) – AAA Travel, one of the largest leisure travel agencies in North America, hosted its annual conference Oct. 22-24 in Charlotte, North Carolina. Focused on the theme "Accelerating Growth," the event featured world-renowned speakers from across the travel industry, including The Travel Corp. CEO Brett Tollman, Phocuswright Senior Vice President Douglas Quinby and Project: Time Off Chief of Research and Strategy Katie Denis. Delegates from AAA/CAA clubs, travel suppliers and international Global Mobility Alliance affiliates attended the event to network and share best practices and opportunities to grow AAA Travel's position in the industry.
AAA Carolinas' Kelly Brock was honored with Highest Sales, Highest Revenue and Highest Preferred Cruise Sales. Kelly Brock is a 30-year veteran of the travel industry, having served the last 17 years at AAA Carolinas in Bluffton, South Carolina. This is her fourth time being honored as a Superlative Award winner and she has been named a Top 25 All Star by Travel Agent Magazine. Her extensive travel experience has taken her to exotic destinations around the world, as well as many European countries, Caribbean islands, and all throughout the U.S., Canada and Mexico. Her passion lies in adventure travel, river cruising and luxury travel.
AAA Carolinas' Henry Dennis was honored with Highest Preferred Tour Sales. Henry Dennis, also a four-time Superlative Award winner and named a Top 25 All Star by Travel Agent Magazine, has more than 30 years' experience in the travel industry. He is a Certified Travel Counselor and Accredited Cruise Counselor. He also holds multiple Destination Specialist and Lifestyle Specialists accreditations, as well as numerous supplier and destination certifications. Dennis is based in Charlotte, North Carolina, where he has served AAA Carolinas' members for more than 20 years.
"We are so proud of Kelly and Henry," said AAA Carolinas Senior Vice President of Travel Sarah Henshall. "These two embody what it means to represent AAA and they continue to go above and beyond to recommend and plan the perfect trips for our customers."
The Partner of the Year Award selection process included surveys and evaluations from the association's club travel agency executives. Superlative Awards are based on agents' leisure travel productivity and leisure group sales from July 1, 2016 through June 30, 2017. Thousands of agents were eligible for the awards, and AAA clubs nominated their top achievers.
AAA Carolinas, an affiliate of the American Automobile Association, is a not-for-profit organization that serves more than 2.1 million member and the public with travel, automobile and insurance services while being an advocate for the safety and security of all travelers.​​